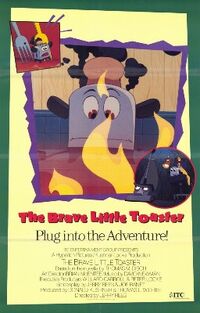 The Brave Little Toaster is a 1987 American film about a Toaster, and his companions who go on a quest to find their owner. The film was produced by Hyperion Productions, Disney currently owns the rights.
Write the first section of your article here.
Production
Edit
Distribution
Edit
Viewing Links
Edit
The Brave Little Toaster (English; full)
Der Tapfere kleine Toaster (Deutsch; komplett)
Η μικρή γενναία φρυγανιέρα (Ελληνική Υπότιτλοι)
Write the second section of your article here.