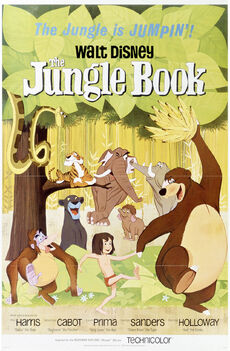 The Jungle Book is an animated feature film, based on Rudyard Kipler's The Jungle Book, produced by Walt Disney Productions, and released on October 18, 1967. It is the last Disney Film to be produced by Walt Disney, who died during production.
Write the first section of your article here.
Related Works
Edit
A sequal, The Jungle Book 2, was created in 2003.
The animal characters were reimagined in Disney Channel's animated TV series TaleSpin.
Production
Edit
Production Information
The early versions of both the screenplay and the soundtrack followed Kipling's work more closely, with a dramatic, dark, and sinister tone which Disney did not want in his family film, leading to writer Bill Peet and composer Terry Gilkyson being replaced.
Reception
Edit
Difference from Litterary Source
Edit
As disney wanted less of a dark tone then that found in Kipling's work, some content, and characters where changed. For example, the snake Kaa is one of the heros of the book, yet he is a minor, and comical, villian in this production.
Source Links
Edit
Write the second section of your article here.