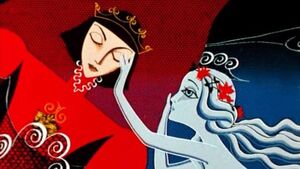 You may be looking for The Little Mermaid (1989 film)
The Little Mermaid (Rusalochka) is a 1968 contemporary version of the tale, told with the aid of two animation forms. One, the mainstream style of cartoons, and the other, in a style much like illistrations from a Russian tale, or paintings of the midieval period. Rusalocka follows Hans Christian Anderson's original work more closely then latter editions.
Write the first section of your article here.
Production
Edit
Reception
Edit
Viewing Link
Edit
Rusalochka (Native Russian, No Subtitles)
Rusalocka (Native Russian, English Subtitles, Part One, Part Two, Part Three)
Source Links
Edit
Write the second section of your article here.