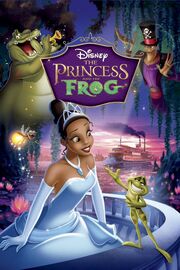 The Princess and the Frog
is a 2009 Disney production that marked the companys return to traditional animation. The film is loosely based on E.D. Baker's
The Frog Princess
, which in turn is based on the Brother Grimm's fairy tale, The Frog Prince. Set in 1920s New Orleans, the film follows Tiana, a hardworking waitress who dreams of owning her own resaurant. After kissing a prince who has been turned into a frog by a witch doctor, she too becomes a frog. Together the two (reluctantly) work to break the curse. The film saw limited released in New York, and Los Angeles on November 25, 2009, and wide release on December 11, 2009. The film was co-directed by Ron Clements and John Musker.
Write the first section of your article here.
Tiana - Anika Noni Rose
Prince Naveen - Bruno Campos
Dr. Facilier - Keith David
Louis - Michael-Leon Wooley
Charlotte - Jennifer Cody
Ray - Jim Cummings
Lawrence - Peter Bartlett
Mama Odie - Jenifer Lewis
Eudora - Oprah Winfrey
James - Terrence Howard
"Big Daddy" La Bouff - John Goodman
Young Tiana - Elizabeth Dampier
Young Charlotte - Breanna Brooks
Reggie - Ritchie Montgomery
Darnell - Don Hall
Two Fingers - Paul Briggs
Mr. Henry Fenner - Jerry Kernion
Mr. Harvey Fenner - Corey Burton
Buford - Michael Colyar
Marlon the Gator - Emeril Lagasse
Ian the Gator - Kevin Michael Richardson
Cousin Randy - Randy Newman
Louis' Trumpet Playing - Terence Blanchard
Georgia - Danielle Mone' Truitt
Additional Voices
Keith Anthony
Kwesi Boakye
Roger Aaron Brown
Peter Del Vecho
Jeff Draheim
Rob Edwards
Al Hebron
Kellie Hoover
Wolfgang Wesley Hutton
Margaret Johnson-Holzendorf
Jennifer Kilger
John Musker
Allison Norman
Lynwood Robinson
Kimberly Russell
Lorry Ann Shea
Bruce W. Smith
Elissa Sussman
Marlon West
Joe Whyte
Seth R. Williamson
Shanda M. Williamson
Shane R. Williamson
Production
Edit
The film entered production under the name 'The Frog Princess'.
Distribution
Edit
Notes on the Setting
Edit
The prologue sequence features a man reading a newspaper on the trolley Tiana and her mother take home. The headline reads "Wilson Elected!!!" which places the prologue in the year 1912. With the rest of the film taking place in the 1920s one may note that prohibition is in full swing but was widely ignored in the south so Alcohol being served in various scenes (the riverboat, restaurant, and ball) isn't an anachronism so much as a reflection of New Orleans during that era.
Write the second section of your article here.